Oct 21, 2020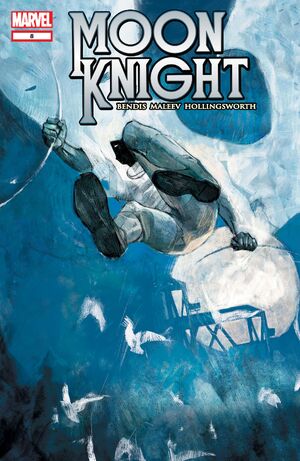 Sponsored by Hello Headphones & Dreamland Comics
EPISODE 169:
High Priest of Khonshu Rey chats away with regular guest co-host 'The Power of' Chad as they resume their look at modern Moon Knight series...
The Brain Michael Bendis run has always proven a great point of discussion and the boys waste no time analysing the pros and cons!
PHASE OF THE MOON: Waxing Crescent
SEGMENT:LUNAR-PICK MODERN RUN REVIEW
Moon Knight Vol. 6, Issue #8 - "1st Story"
Published February 2012
BARE BONES (Courtesy by Wiki):
At the precincts garage, Marc leaves Snapdragon tied to a detectives car. Alerted, the detective fires at Moon Knight but he takes out Cap's plasma shield to stop the bullets; they're on the same side. Marc is able to settle the officer down and share his information on Count Nefaria to him. As a token of trust, he gives Maya's recorded battle footage to him. The detective reluctantly agrees on their allegiance. The next morning, Marc is watching a ridiculous cut from his show but he steps away for a meeting... with his voices. They pressure him to strike as soon as possible. Back at his house, Marc is working with Buck to upgrade his gear. In the process, he upgrades Echo's staff with vibranium metal.
Meanwhile at the police station, Detective Hall brings the footage to his captain but he disregards it by turning it to a federal case; he is on Nefaria's payroll. Hall decides to visit Snapdragon and tells her that no mob lawyer, super criminal, or ninjas have arrived to extract her which leaves Hall to believe that she might be burned; it might be beneficial for her to talk. Across town, Moon Knight and Echo spend the night by taking down Nefaria's operations in order to draw him out... which worked as he floats behind them.
MOON RATING :
Chad: 🌖 8 /10 - Big, Beautiful Yellow Man
Rey: 🌖 7 /10 - Solid Round Boi
Shine those idols, and dust off the cape....IT'S TIME TO GET YOUR KHONSHU ON!
SHOW NOTES:
WHERE TO HEAR US:
DROP US A LINE:
CHECK OUT THESE OTHER SHOWS I CO-HOST!
The Last Sons of Krypton: A Superman Podcast
Capes & Lunatics Sidekicks: An Ultimate Spider-Cast - Scarlet Spider!
To Know Her Is To Fear Her: The Spider-Woman Podcast
OFFICIAL ITK MERCHANDISE @ TEE PUBLIC - BUY HERE!
SPONSORS:
Hello Headphones | www.HelloHPS.com
Use the code 'ITKMOONKNIGHT' to get 10% off all purchases!
Dreamland Comics - the Super Hero Super Store!
Use the code 'MOON' to get 20% off all purchases!
AFFILIATE SPONSORS:
Purchase your figures through our link to Entertainment Earth and help support the show!
CREDITS:
ITK Logo Graphic Design by
The High Priests of Khonshu
ITK Graphic Design produced and assisted by
ITK Opening Sequence for video by
Chris Kelly
Music Written, Performed and generously provided by
Co-Producers
Wayne Hunt
Josh Johnson
James Young
Anthony Sytko
Jordan Hegarty
Executive Producers
Dustin Kurtz
Justin Osgood
Derek O'Neill
Produced by
Reynaldo Gesmundo
Proud Member of The Collective
The music for this episode contains excerpts from various songs and music copyrighted by Deleter and Brian Warshaw. The music agreed for use on Into the Knight - A Moon Knight Podcast is licensed under an Attribution License;