Oct 1, 2020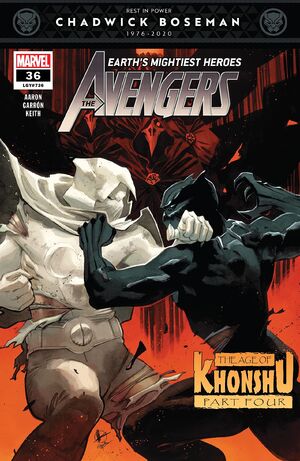 Sponsored by Hello Headphones & Dreamland Comics
EPISODE 165:
High Priest of Khonshu Rey returns for a raw reaction episode to the recently released Part Four to THE AGE OF KHONSHU!
Gut reactions and SPECTORLATIONS abound plus there's plenty of Loony Feedback to discuss!
For a quick turnaround, Rey goes at it solo yet again...but don't let that deter you - THE FIRES WITHIN BURN HOT!
Check it out for more thoughts on the latest appearance of Moon Knight in the Marvel Universe...
Shine those idols, and dust off the cape....IT'S TIME TO GET YOUR KHONSHU ON!
PHASE OF THE MOON: n/a
SEGMENT: NEW COMIC BOOK REVIEW
Avengers Vol. 8, Issue #36 - The Age of Khonshu - Part Four: Moons of Fire, Stars of Blood, Panthers of Black
Published September 30th 2020
Editor - Tom Brevoort, Martin Biro, Alanna Smith
MOON RATING :
Rey: 🌖 6.5/10 - Waning Gibbous
Shine those idols, and dust off the cape....IT'S TIME TO GET YOUR KHONSHU ON!
SHOW NOTES:
WHERE TO HEAR US:
DROP US A LINE:
CHECK OUT THESE OTHER SHOWS I CO-HOST!
The Last Sons of Krypton: A Superman Podcast
Capes & Lunatics Sidekicks: An Ultimate Spider-Cast - Scarlet Spider!
To Know Her Is To Fear Her: The Spider-Woman Podcast
OFFICIAL ITK MERCHANDISE @ TEE PUBLIC - BUY HERE!
SPONSORS:
Hello Headphones | www.HelloHPS.com
Use the code 'ITKMOONKNIGHT' to get 10% off all purchases!
Dreamland Comics - the Super Hero Super Store!
Use the code 'MOON' to get 20% off all purchases!
AFFILIATE SPONSORS:
Purchase your figures through our link to Entertainment Earth and help support the show!
CREDITS:
ITK Logo Graphic Design by
The High Priests of Khonshu
ITK Graphic Design produced and assisted by
ITK Opening Sequence for video by
Chris Kelly
Music Written, Performed and generously provided by
Co-Producers
Wayne Hunt
Josh Johnson
James Young
Anthony Sytko
Jordan Hegarty
Executive Producers
Dustin Kurtz
Justin Osgood
Derek O'Neill
Produced by
Reynaldo Gesmundo
Proud Member of The Collective
The music for this episode contains excerpts from various songs and music copyrighted by Deleter and Brian Warshaw. The music agreed for use on Into the Knight - A Moon Knight Podcast is licensed under an Attribution License;